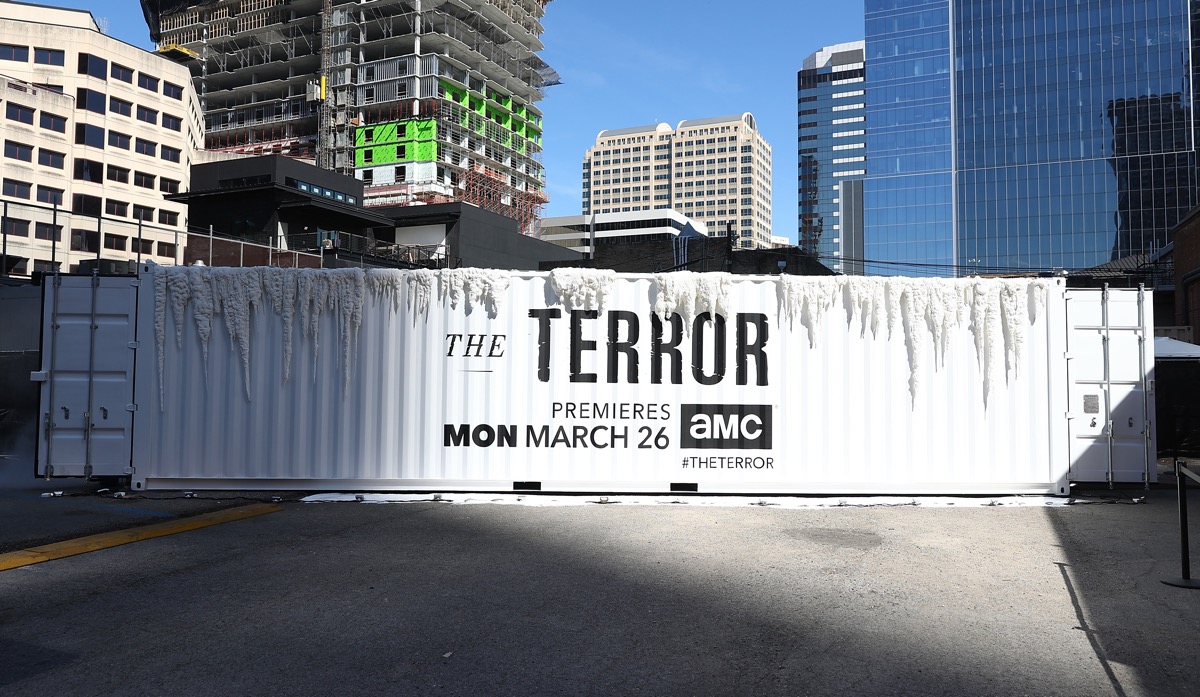 One can only hope that AMC's The Terror is a much better show than the experience was. Off-site events that include activations, rides, games, and panels are usually reserved for the meca of all conventions, San Diego Comic Con. It looks like AMC wanted to jump start its marketing push for their new show before its Monday night debut by bringing an immersive experience to this year's Wondercon in Anaheim, CA.
The fully immersive experience of what the characters on AMC's The Terror went through is coming to WonderCon. AMC is inviting fans in Anaheim attending WonderCon to experience the Arctic just as the real-life crew did on their ill-fated expedition back in 1845.

The multi-sensory experience offers guests a first-hand look as a crew member aboard the ship's disastrous trip through the desolate polar landscape. Guests will feel the bone-chilling air, smell the fear and despair and hear the horrific sounds of men fighting for their survival. Look for the experience on the Grand Plaza of the Anaheim Convention Center during the following day and times:

Friday, March 23 – 11:30am – 8:00pm
Saturday, March 24– 10:00am – 8:00pm
Sunday, March 25 – 10:00am – 5:00pm
Your friends at That Hashtag Show were invited to today's press visit to experience "the terror" within a shipping container. A 12 person group is brought into a shipping container, and as the outer doors close, your attention is called to the screen in front of you laying out some of the premise of the show, and then cutting to a clip from the show. After that short segment, a shade rises on your right, and you're invited to take a seat on a row boat while mock snowstorm engulfs you. One of the disappointments here was that it didn't feel cold enough especially for someone trying to find reprieve from the heat outside. Once you take a seat in the true to life size row boat, what I assume to be an extended version of a trailer will play on the screen in front and behind you. Your surroundings are made to look like you are stranded near an iceberg while snow flies at you. If you've ever been to a 4DX movie or ride this is very similar.
Although the experience exposed me to a show I wasn't quite aware of, and was even intriguing it lacked a certain 'wow factor'. While you are supposed to be made to feel like you're on a boat in the middle of a snowstorm it's never cold enough to produce a chill. The visuals could have tricked you into thinking that the boat was moving on the water, and the visuals coupled with loud audio just made for sensory overload. I could never really concentrate on what was being shown to me especially when there are so many people filming the experience on their phone.
While I wouldn't recommend that anyone spend more than 15, maybe 30 minutes in line for this experience I will say that the show looks like it is worth a watch for anyone who likes horror and suspense. Note that at one point you will be told to stop recording as to avoid broadcasting a spoiler.
The Terror, from executive producers Ridley Scott, David Kajganich, and Soo Hugh, follows a British Royal Naval expedition as they set sail in search of the Northwest Passage. Faced with treacherous conditions, limited resources, dwindling hope, fear of the unknown and attacks by a mysterious predator, the crew is pushed to the brink of extinction. The series is speculative fiction based on the lost voyage where more than 120 crew members inexplicably disappeared. Their fate is one of the enduring mysteries of the age of exploration. This epic series features distinctive imagery and landscapes, with a visual quality that is emblematic in scale and scope of a Ridley Scott production.
The 10-episode series stars Jared Harris (The Crown, Mad Men) as Captain Francis Crozier, Tobias Menzies (Outlander) as Captain James Fitzjames, Ciarán Hinds (Game of Thrones) as Sir John Franklin, Paul Ready (Cuffs) as Dr. Henry Goodsir, Adam Nagaitis (Suffragette) as Cornelius Hickey, Nive Nielsen (The New World) as Lady Silence and Ian Hart (Neverland) as Thomas Blanky.
AMC's The Terror premieres Monday night at 9pm. You can binge watch the entire season if you are an AMC Premiere member.
Facebook Comments