Even Mattel is getting in on Mando Mondays with their new Baby Yoda plush. Better yet, it even moves, and hopefully in a non-creepy way.
For the October 26, 2020 edition of Mando Mondays, Mattel is making their The Child Real Moves Plush available for preorder from Disney's online store. Why is this particular plushie so unique? Apparently because it moves.
No, this isn't because the Baby Yoda plush is haunted. It's apparently a little robot that you can control with a wrist-mounted remote control. So you don't have to worry about your Baby Yoda plush suddenly spouting creepy lines and brandishing a knife at you. I mean, this isn't Chucky the Yoda-ling. At least, I hope not.
Baby Yoda Halloween Edition Currently not Available (Yet)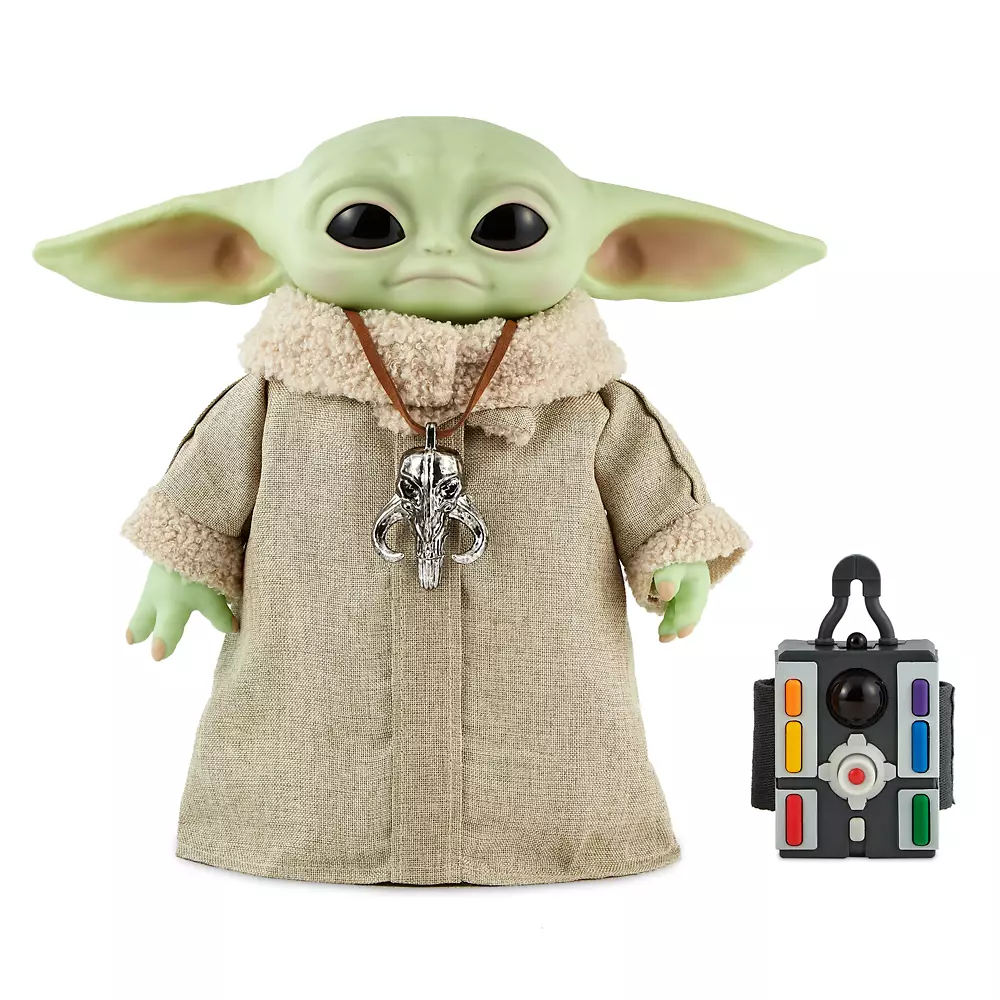 The Baby Yoda Real Moves Plush is made up of a rubberized body with painted detailing. No idea how that feels like though. However, his clothes are made up of burlap with a fake fur trim (fortunately). This does indicate that this Baby Yoda plus is huggable to a certain degree. Even if that metal Mythosaur necklace does impede it to a certain degree.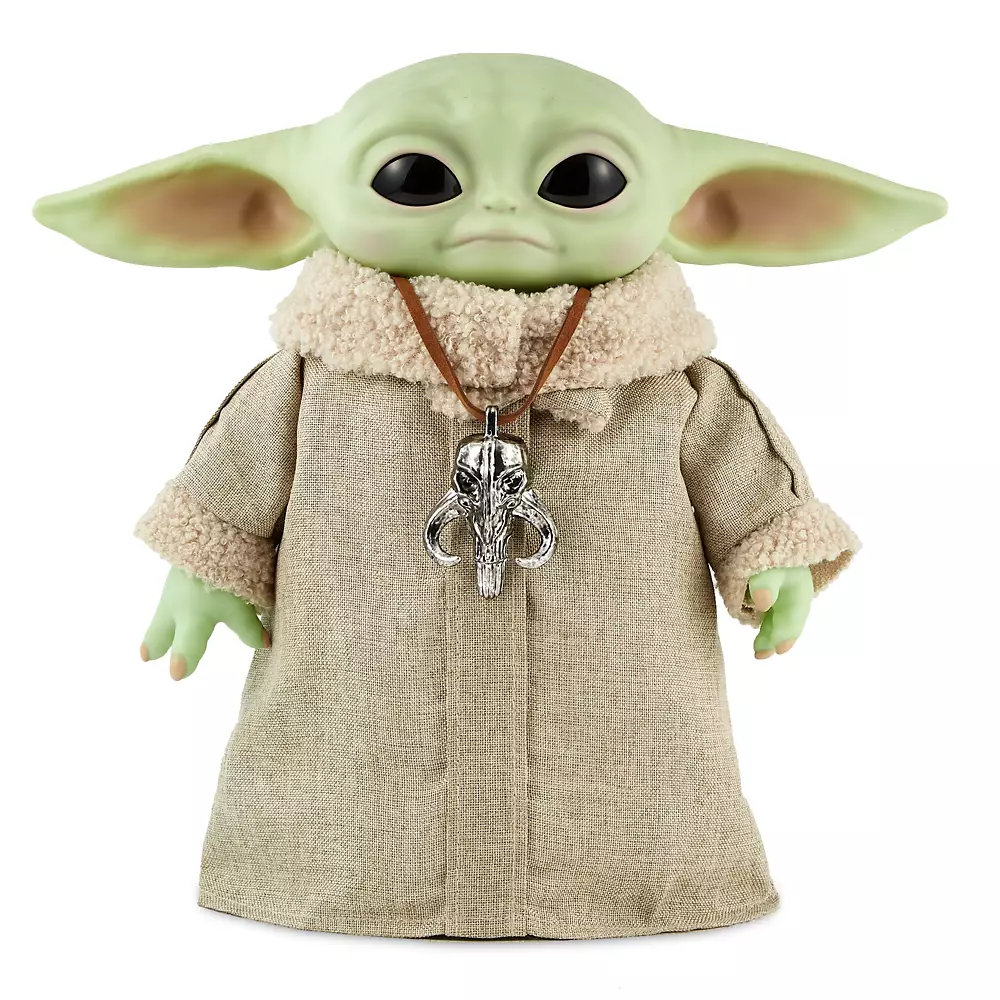 However, Baby Yoda plush's main feature here isn't his huggability, but his movability. You strap that remote control onto your wrist, and then use it to control his actions. There's a little joystick that you can use to move him directly. The variously colored buttons on the sides gets Baby Yoda to perform pre-programmed actions based on which button you press.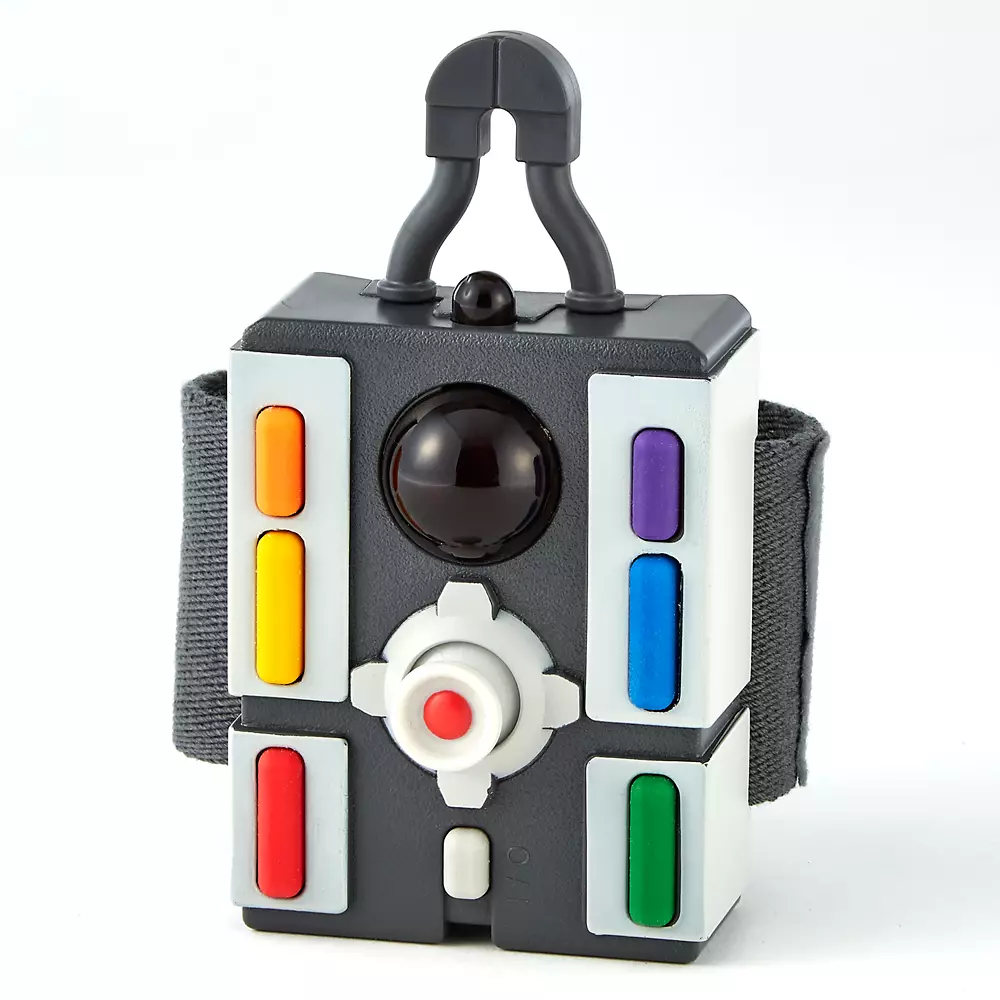 For example: the orange button makes Baby Yoda's head and ears move, while the red button make Baby Yoda curiously explore the room around him. The blue button even make Baby Yoda play hide and seek with you after a 10 second delay. This seems to indicate that there are cameras in the plush's eyes, as well as some pretty advanced electronics in there.
Of course, for all these features, there comes a price. In this case, it's a $69.99 price from Disney's online store. It seems like a pretty big chunk out of your wallet for a Baby Yoda plush, but truth be told, I'd have expected a much higher price for something like this. $70 actually sounds reasonable.
The only catch is that it's a preorder, not a purchase. Worse, there's no shipping date yet, so we have no idea when you'll even get your Baby Yoda plush once you pay for it. We'll just have to wait for official news from Disney later.
Conclusion
For Mando Mondays, Mattel is making their The Child (AKA: Baby Yoda) Real Moves Plush available for preorder from ShopDisney for $69.99. Unfortunately, we don't have a release/shipping date for it. We can't tell you when it'll arrive when you pay for it. The website only says that you'll receive an email once the plush is ready to ship. Personally, I'd hold off on buying this until we get official news on the shipping date. But hey, it's your money.
Source: ShopDisney