It's time for Summer Teen Dramas, and Hulu isn't holding back by dropping "Love, Victor" season 2 on June 11th – just in time for Pride! In case the name sounds relatively familiar to you, "Love, Victor" is a spin-off of the 2018 critically acclaimed film "Love, Simon".  And just in case you missed season 1, let me give you a quick synopsis. 
"Love, Victor" tells the story of a young latinx high school boy, Victor Salazar, who goes to the same high school that Simon went to in the film. Simon and Victor have become pen pals?….digital pen pals?….text pal? They have become friends. Throughout Season 1, Victor reaches out to Simon to see if he could offer him some guidance in how to navigate high schools, friends, girls, and eventually…coming out. Season 1 ended with a huge cliffhanger that most LGBTQ+ people have echoing in their mind, with Victor saying, "I'm gay.", to his parents and sister.
Love, Victor Season 2
Season 2 picks up at that exact moment and then jumps ahead a couple of months. The kids have gotten through summer and it is time to come back to school, back to reality.  Which for some is great, for some…not so great.  Victor and Benji have had a great summer in their little bubble. No one at school knows Victor is gay, yet, and they've been in rose-colored glasses love land with Felix, Lake, Andrew, and Lucy. While Mia has been away at Summer Camp since the events at the end of season 1.  
Where Love Victor Season 1 focused on the difficulties of living in secret and coming out, Season 2 tells the story that we almost never hear…the story of what comes next.  So, let's take it from the top. Episode one really felt like it was going to be more of the same from Season 1.  Victor WAS scared to tell his family, now he is scared to tell his school. 
He promises Benji he would and then backs down.  Mia has come back from summer camp and is still holding a grudge against Victor. On top of that, Andrew has moved on as well.  Lake and Felix are..just…perfect and adorable.  After watching season 1, everything in me was sure I was going to HATE Lake. But she really turned out to be my favorite character in the show…maybe even more than I like Victor.  Victor eventually comes out to everyone in a true Teen Angst moment which was pulled off beautifully.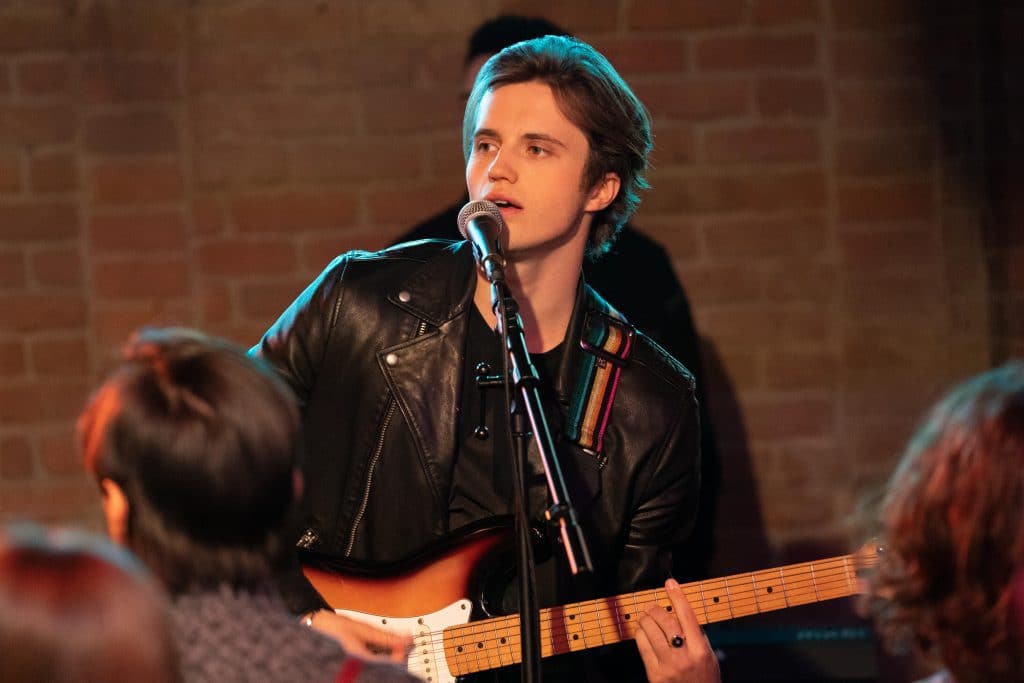 Learning More About Victor
Once Victor is out, we start to delve more into the other character's lives.  Victor's parents are still separated, and struggling with Victor being gay – his mother more so than his father.  Simon's father, Armando (James Martinez), is handling everything pretty well and even begins to attend PFLAG meetings where we see Jack Spier reprising his role as Simon's father and running that PFLAG meeting in town. Isabel, Victor's mom (Ana Ortiz), really struggles with Victor being gay and even throws away an entire meal when she knows Benji is coming to dinner. Eventually, Isabel turns to the church which is a huge crossroads moment for her character. I loved Ortiz's powerful portrayal of a mom who genuinely loves her son while struggling to unlearn all that was drilled into her as a child regarding homosexuality. I also applaud the writer's for not sugar-coating this moment for her.  
Another stand-out performance for me was Brandt's portrayal of a manic-depressive mother.  I myself grew up with a mother who struggled with this disease. Let me tell you, this was painfully accurate and perfectly balanced by Turpel's Felix.
Love, Victor Season 2 Has A lot of Love
Victor (Michael Criminio) continues to shine in this series, but one thing that I really loved this season was that the writers opened up the lens a bit and really brought a lot of the other characters to life.  This season we dig a bit more into Mia's (Rachel Hilson) feelings of coming second to her father's (Mekhi Phifer) job. Lake's (Bebe Woods) struggles with her mother's (Leslie Grossman) expectations as well as her relationship with Felix. We get to see more into Felix's (Anthony Turpel) situation with his manic depressive mother (Betsy Brandt). Pilar (Isabella Ferreira), Victor's little sister, gets a lot more screen time this time around with her new gay friend Raheem (Anthony Keyvan), and her budding feelings for Felix.
In season 2 of Love, Victor has a LOT to love and very little that I can say is negative.  If I had to say one thing, it is about how this season ends.  Much like the end of season 1, this season ends on a HUGE cliffhanger.  I NEED TO KNOW WHAT HAPPENS.  If there isn't a season three I am going to lose my mind.