This review of Thor: Love and Thunder is SPOILER FREE.
It feels terrific to be represented by something as mainstream as Thor: Love and Thunder as a heavy metal fan. It's been a long time coming for the heavy metal renaissance in pop culture, but it finally feels like it's coming. Thor: Love and Thunder is heavy metal thunder. Every shot feels like an album cover from a band like Helloween or Blind Guardian come alive. Except for those album covers simultaneously had a baby with a Terry Gilliam movie. It's been said a million times, but Marvel is at their best when they splice together some other genre or feeling with superheroes. So you have basically what amounts to a fantasy/sci-fi buddy comedy with Thor: Ragnarok. This time around, we get The Adventures of Baron Munchausen crossed with Thor. That's the most descriptive that I can get when it comes to Thor: Love and Thunder.
Ragnarok is one of the most popular and beloved movies in the MCU. Taika Waititi returns from that film to direct this installment, and he could very easily have just rehashed what was good about that movie here. Instead, he and Writer Jennifer Kaytin Robinson took the Thor character to a very logical place. The MCU is at its most gargantuan from a scope and scale standpoint. However, Thor: Love and Thunder doesn't lean into those multiversal themes. Instead, the film keeps the story small, but the stakes high. Gorr the God Butcher (played by Christian Bale) is among the most menacing and awesome villains they've had. For people who have clamored for a villain that has edges, motivations, and dare I say, makes you almost root for them, Gorr is the one.
You Kind Of Needed This Role To Get Christian Bale Involved
Getting Christian Bale back to a comic book movie required a hell of a role. He's not the type of actor to just hop on a project without having something to sink his teeth into. Gorr the God Butcher is just as menacing and vengeful as his name describes. He's more powerful than Thor; he's a gigantic threat to the natural order of the MCU. If he succeeds in his quest to kill all the gods, that's game over. His background isn't overexplained either. We don't get the entire story like Thanos in Infinity War and Endgame. You're left wondering, where did this guy get to the point of worshipping gods so much, that he then wanted to kill them all. While that question is answered early on, the stuff before that isn't explained. Which works for the best in the film.
There are a few scenes to point to with Gorr that stand out, but the one that sold me the hardest was from the trailer. When Thor, Mighty Thor, and Valkyrie make it to Gorr's hideaway and the color scheme changes to black and white. It's a sublime choice from Waititi to strip the color from an entirely vibrant and vivid film. Gorr just looks fantastic in general, and his powers are very visually satisfying and verge on horrifying.
Well, You Really Needed This Role To Get Natalie Portman Back As Jane Foster/Mighty Thor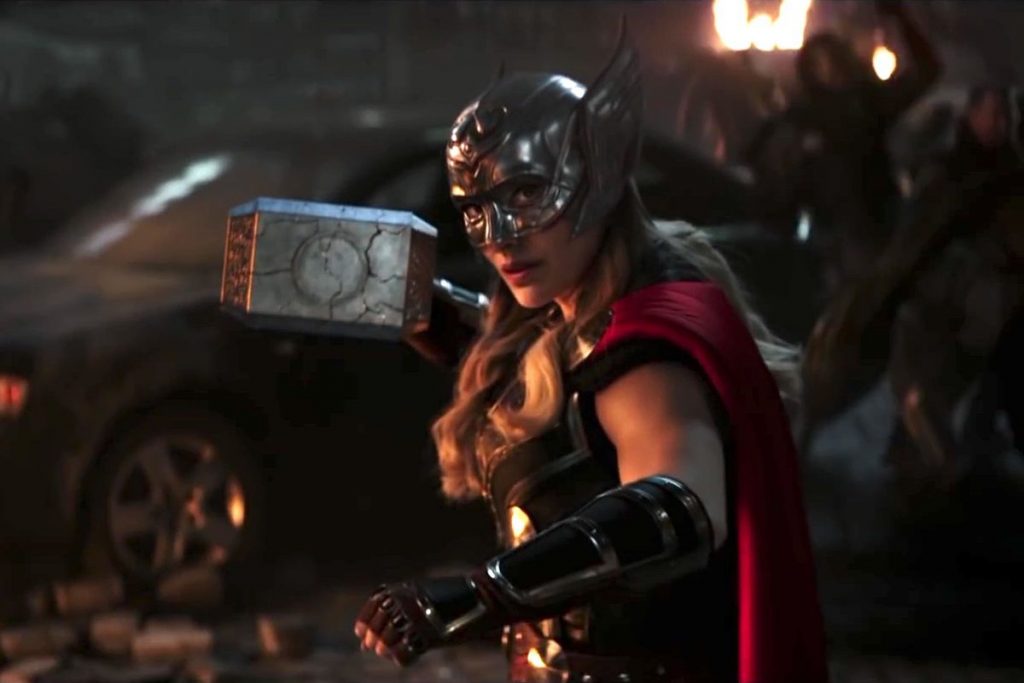 Speaking of getting people back, Natalie Portman is finally back as Jane Foster. The last time we saw her was the underwhelming Thor: The Dark World. That film wasn't a great showcase for anyone involved in the franchise, and it's an interesting look to see how we go from that film to Thor: Love and Thunder. For those worried that Jane Foster would get the same treatment here, she doesn't. Natalie Portman is absolutely magnificent in the film. She exudes confidence, stands alongside Thor, and is just jubilant and carefree. It's such a refreshing performance because she feels very much like you or I would if we got the powers of Thor. It's easy to see why they got her to return with this role and the amount she has to work with.
Tessa Thompson and Chris Hemsworth return as Valkyrie and Thor as well. Valkyrie gets much more to her character than just being an angry drunk like she was in Thor: Ragnarok. She is arguably more badass here as the King of New Asgard. Her character is fleshed out in an interesting way. She's just a very satisfying character overall. At the end of the day, this is Thor's movie and his story. The character has gone through more loss than any other in the MCU. After the void that Tony Stark leaves for fans of the MCU, Thor steps in admirably as that fan-favorite character here.
Hemsworth looks and feels like a superhero, with muscles the size of mountains; but at the same time, he's such a goof and acts just like any of us if their ex-girlfriend returned after four years with their former hammer. Some of the best comedy in the film involves Stormbreaker being jealous of Mjolnir.
The Guardians of the Galaxy aren't in the film for very long. However, some of the other best comedic moments come from how Thor interacts with them. Their disdain for Thor is hilarious, whether he knows it or not. It also sets them up on their way for Guardians of the Galaxy 3; they're more than an extended cameo in this film.
A Truly Joyful Film Experience
Thor: Love and Thunder is the most metal movie I've seen in a long time. It's metal in the attitude it carries itself with. It's metal with decadent imagery and a vibrant color palate. Most of all, the soundtrack is a smashing success for fans of Guns N' Roses and other metal bands. I also don't care if you don't think that GnR is metal.
Outside of GnR, there's another song on the soundtrack that makes my heart pump, my hand curl into the devil horns, and want to bust out an air guitar right at the premiere. There are so many moments in Thor: Love and Thunder that will make crowds go nuts in such a satisfying way. This isn't your cameo-fest; it's not going to be earth-shattering on Twitter like Spider-Man: No Way Home was, but in a lot of ways, Thor: Love and Thunder is vastly superior to that film and others like it.
Outside of a few quibbles like some strange use of CGI when Thor wears a mask, the film is an utter joy. It combines an all-time great MCU villain, a meaty plot with lots to cheer for, heavy metal, and creatures that would make Jim Henson blush; it's just a fantastic time watching a movie. Taika Waititi made Thor fun with Thor: Ragnarok, and he takes him to an all-new level with this film. Like the gods it depicts, Thor: Love and Thunder is decadent, indulgent, and larger than life.
Thor: Love and Thunder releases in theaters on July 8th, 2022.
For more movie reviews, make sure to check back to That Hashtag Show.
Keep Reading: