We are just a few hours away from the release of the highly anticipated Disney+ series Star Wars: The Bad Batch. To add to the excitement for Star Wars Day, Hot Toys has just revealed the first Star Wars: The Bad Batch sixth scale figure, Echo. This former ARC Tropper is one of many new Hot Toys figures that were announced today. Here are the official details from Hot Toys.
Star Wars: The Bad Batch – 1/6th scale Echo Collectible Figure
Former ARC Trooper Echo joined the Bad Batch towards the end of the Clone Wars after his rescue from the Techno Union. Also Echo's knowledge of proper military tactics and strategy provides valuable insight, while his socket-arm and cybernetic implants give him the unique ability to interact with computer system.
In celebration of Star Wars Day and The Bad Batch animation series' debut, Hot Toys is excited to introduce the 1/6th scale collectible figure of Echo inspired by Star Wars: The Bad Batch! The highly-accurate collectible figure features skillfully crafted and finely detailed recreation of Echo's armor and helmet. Interchangeable head sculpt with great likeness. And the character's unique cybernetic parts including a variety of interchangeable mechanical right arms, a military backpack, blaster, and a display base! Enrich your Star Wars collection today with this stunning 1/6th scale Echo Collectible Figure!
#HotToys #Collectibles #SixthScale #Lucasfilm #StarWars #TheBadBatch #Echo
We Want To Hear From You
What are your thoughts on the Echo sixth scale figure from Hot Toys? Is this a must-have for your collection? Also, what other sixth scale figures are you hoping to see released this year? Well, That Hashtag Show wants to hear from you!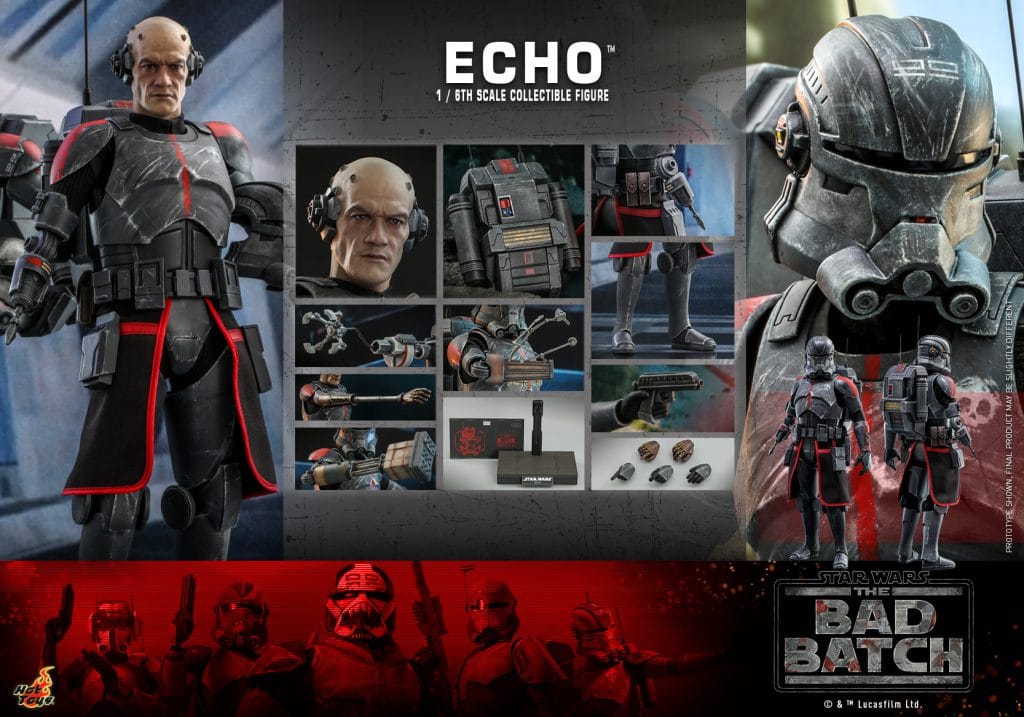 You can tell us your thoughts by leaving a comment below or hitting me up at starwarsnerd574. You can also join me at the Midwest Star Wars Fanatics fan page to chat all things Star Wars. Also, make sure to stay up to date on all the Star Wars news by following us at ThatHashtagShow.com. More importantly, be safe, I can't wait to see you all at Celebration 2022.
SEE ALSO: STAR WARS: THE BAD BATCH HOT TOYS SIXTH SCALE FIGURES COMING SOON!
SEE ALSO: STAR WARS: THE BAD BATCH PRESS CONFERENCE HIGHLIGHTS