Peacock's reboot of 90's sitcom The Fresh Prince of Bel-Air is coming soon! We had an opportunity to watch the first 3 episodes of Bel-Air that will also drop on Superbowl Sunday. Let me just say, they did NOT disappoint.
WHAT IS BEL-AIR
Executively Produced by Will Smith, Bel-Air is set in modern-day America. Unlike the original multi-cam comedy family sitcom, this reimagining is a 1-hour drama series. The show will show a dramatic take on Will's complicated journey from West Philadelphia to the gated mansion of California's Bel-Air. As these two worlds collide, Will reckons with the power of second chances while navigating the conflicts, emotions, and biases of a world far different from the only one he's ever known.
THIS ISN'T YOUR MAMA' FRESH PRINCE
There are a lot of changes, but similarities with this darker version of the 90s sitcom. But, there are also a lot of similarities. We have the Banks' who are an affluent black family living in the southern California gated community of Bel-Air. We also have Will, a young kid from West Philly who gets in a much more dangerous fight than the catchy lyrics of the original theme song would have you think. That's truly where the similarities end. And I love it.
Unlike the Peacock's Saved By the Bell reboot, Bel-Air steers clear of the campy comedy of its predecessor making it feel brand new. The issues, and subject matter the series tackles so far put it on the Euphoria level of drama, minus the nudity. We get a deeper view into what Will was involved with which caused his mother to move him across the country. The Banks family is more opulent than I ever imagined, but along with the wealth comes its own set of problems they weigh on their children.
Do not expect to ever see the iconic Carlton dance. Ashley will not be singing at the dinner table. And Hilary is not the daft daughter bringing light to dark situations. As we watch Will navigate this new world, it sheds light on issues that plague both the white and black communities alike that are sometimes ignored but are also in our faces every day.
THE INCREDIBLE CAST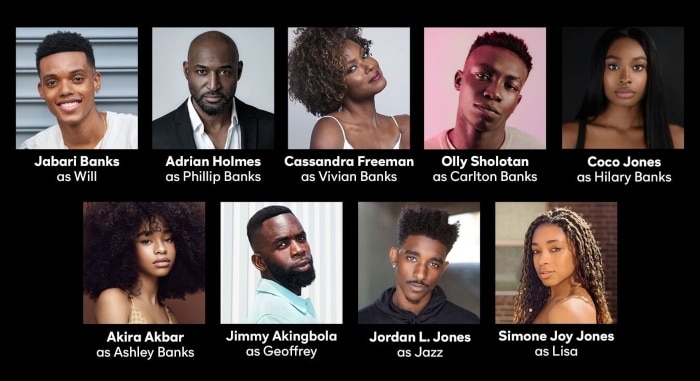 As we all know, this Bel-Air cast has HUGE shoes to fill, and they do it effortlessly. I don't find myself comparing anyone to their original counterparts. And I believe that's completely due to the fact that the two series are night and day. Whoever found Jabari Banks deserves an award. Banks is incredible as Will! He has the charisma the character needs, while also having an edge that can only come from someone who grew up in a tougher neighborhood.
Another huge standout is Olly Sholotan as Carlton. His character is one of the biggest changes to the series. Carlton is no longer the happy-go-lucky guy we grew up loving. He's got heavier, real-world issues that expose the pressures that come with the world he grows up in.
The hardest change for me to swallow, but I understand why it had to happen is Uncle Phil (Adrian Holmes). So far in these 3 episodes, Uncle Phil is the villain and not the warm father figure he used to be. He's no longer a Judge/Lawyer. He's now a man running for DA who is willing to do anything it takes to get there including sacrificing his family's happiness.
EVERYONE SHOULD WATCH BEL-AIR
I honestly have zero complaints about this series so far. I devoured these 3 episodes we were allotted and was immersed in the series the entire time and couldn't wait to see what happens next. You better believe I will be binging the rest of the series as soon as it drops!
Bel-Air premieres on Peacock Super Bowl Sunday, February 13, 2022. However, we're not just getting one episode, the streaming service will drop three episodes at launch. Then release new episodes every Thursday.
Stay Tuned to THS for more reviews, news, and more!