Hey everybody, have you heard the news? Joe Bob is back in town.
With a new season of Joe Bob comes the inevitable predictions as to what movies will play. It's easy to ask for horror classics, but we aren't always guaranteed the classics, and some of the fun is discovering hidden "gems" of films that stretch the boundaries of good taste, but you have fun regardless.
Season 4 kicks off with Episode 100, and that warrants more celebration than usual, but what can we expect from Joe Bob and Darcy The Mail Girl? While they usually keep the movie picks a secret. We have some clues to go off of.
CLUES
Hint 1:
Hint 2:
First Prediction: Night Of The Living Dead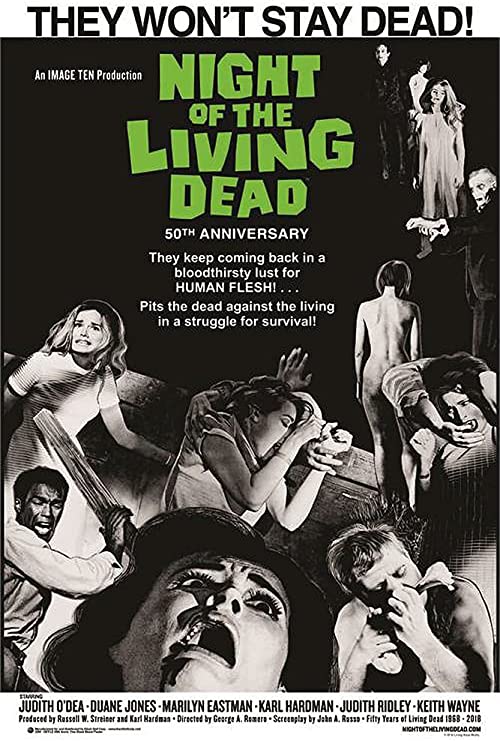 This one is pretty much a shoe-in; mostly due in part to Darcy The Mail Girl making casual mention of the title in the past. Most of the Mutant Fam assumed it was coming, and the 100th episode would be a great place for it.
Joe Bob saying it has to be a classic further cements it.
Second Prediction: Halloween III: Season Of The Witch
It's become a recurring gag on The Last Drive-In that Darcy (and most of the Mutant Fam) want to watch Halloween III: Season Of The Witch, but Joe Bob says it won't happen. Joe Bob has since clarified that it's largely a rights issue and that since Shudder didn't own the rights to Halloween III, they wouldn't be able to cover it.
Well, this month, Shudder added Halloween II and Halloween III: Season Of The Witch to the service. Meaning that now the film is available for coverage.
Also, Joe Bob saying that the film is 40 years old, with Darcy then correcting to say that the film is not exactly 40 years old would make sense, as the film was released on October 22, 1982; meaning that it is not quite 40 years old, although it will be this year.
Other Possibilities:
Creepshow is a movie that is also almost 40 years old, and arguably holds a stronger connection with Night Of The Living Dead through the Romero connection. However, it's not currently streaming on Shudder, although Shudder has been known to add movies literally as Joe Bob is premiering. It's rare, but it could happen.
Evil Dead and Evil Dead II are also on Shudder and could be considered classics. Since Sam Raimi is behind the soon-to-be-released Doctor Strange In The Multiverse Of Madness; an argument could be made that the two films could make for a great showing. Although arguably it would be better to give the two their own night and pairing.
Nosferatu is also a classic, and for a time I thought they were literally choosing a 100-year-old movie for the 100th episode but I since have decided that this is most likely not the case. Although, it could happen!
Stay tuned for my review to see if I'm correct!